View and order my handmade hyper-realistic flowers from cold porcelain clay
Interview with Kate Selezneva: Hand-Made Flower Artist
Kate Selezneva is a remarkable craft artist who creates hyper-realistic flowers and pieces that can be the centerpiece of any room, or even simply, as a special ecological gift. She creates extraordinary handcrafted, life-like flowers and flower pieces, which last way beyond the lifespans of their natural inspirations. Comparing these replicated beauties to their natural counterparts, it is nearly impossible to see any differences with the naked eye. The incredible detail she brings to every piece even makes you want to ake in the natural aromas, as if they were coming from the real thing. Her astounding cold porcelain flowers can easily be mistaken for the actual flowers, as the color and textures are almost exactly like their natural equivalents. Unlike natural flowers, these masterpieces last for years – without any fuss or necessary maintenance, melting your heart every time you lay eyes on it.
We took a little time to talk with Kate about herself and her special creations…
Interviewer: Can you tell us a little bit about yourself?
Kate: Well, I'm originally from Russia and I currently live in Montenegro. I find that the natural backdrop of the mountains and the sea helps me get into my creative space. It's a very beautiful European country tucked away in the Balkans, known for its magnificent black mountains, beautiful nature, mild climate, and its clean and gentle sea. My family and I really enjoy living here. Montenegro also has a long and interesting history, and is well known as a healthy and relaxing holiday destination. I can't think of any other place where I would like to live. It's a perfect place for people who love nature – like myself, my husband, and our three children.
I have been an artist for years – painting, sketching, and appreciating natural beauty. It has been a exciting process going from the flat canvas to realizing fully dimensional sculptures.
Interviewer: How did you get into creating cold porcelain flowers?
Kate: My love for cold-porcelain flowers initially came out of my passion of using aquarelle and oil paints. With cold porcelain flowers, I was able to both sculpt and continue painting. I discovered cold porcelain clay about 20 years ago. I learned that cold porcelain clay was originally from Thailand. Originally, this kind of material was just used for creating small toys, but it later became possible to use it for crafting handmade flowers. Now, Russian and Ukrainian women are the best known 'crafters' who make cold porcelain flowers. For the past 12 years, I have been very pleased to call myself one of them. I have really enjoyed the history of the craftsmanship, and these association of these works with my Russian heritage. I love flowers very much, and find it unfortunate that their lives, once we bring them into our homes, are so short. For these reasons, I appreciate flowers for their unique traits, and have tried to extend their lifetimes by even as many as 10 years, by creating them out of cold porcelain.
Interviewer: Why did you choose porcelain clay over other materials?
Kate: Cold porcelain clay is the only material which makes it possible to completely recreate the subtle characteristics of real flowers: to accurately display their true beauty, transparency and vivid colors, tiny movements, velvety texture, smoothness, and even their fragility. Everything that gives a flower qualities that people admire and adore. Of course, the creation process takes lots of time and attention to detail. I deeply investigate nature and make sure to use the highest quality materials, clays, and oil paints – equipped with all of the special techniques I have picked up along the way.
Interviewer: What inspires you to arrange and pair different flowers together into a bouquet?
Kate: I would say that I rely on nature itself, as well as referencing creations of popular international florists. I like to research popular bouquets, and then create my own unique, inspired designs. I consider the arrangements that florists make to be an art in itself, and then I can add my own spin to their beautiful creations. And I will always use nature as my primary inspiration, because I couldn't do anything that I do without it. I often find flowers paired together in their natural environments, and I enjoy putting them together based on this, although sometimes opposites must also come together to create a beautiful color palette.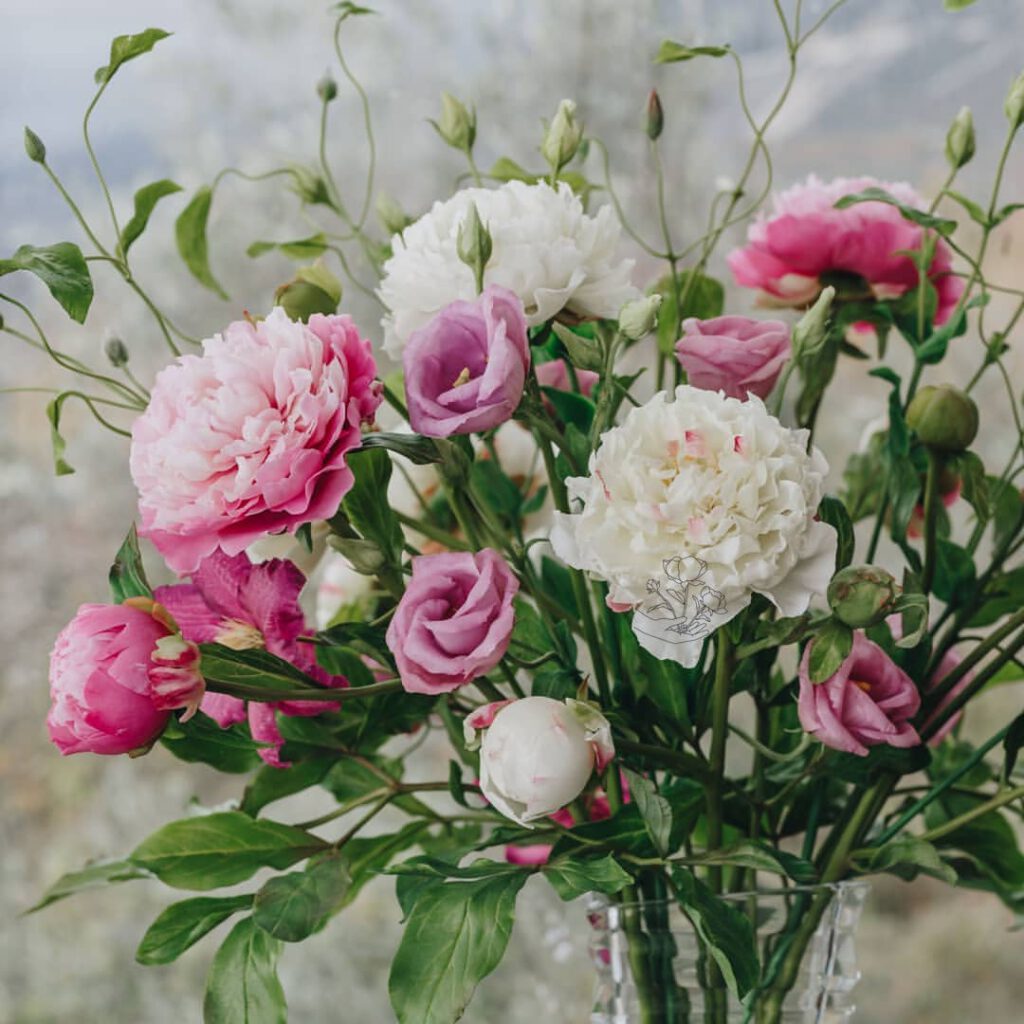 Interviewer: What is your favorite flower and why?
Kate: This is both a really difficult and yet… an easy question for me. I love all kinds of flowers. For me, they are alive, and every flower is beautiful in its own unique way. I think that flowers are like people – each one has their own special attributes that make each individual one unique. My favorite way to appreciate flowers is through everything that I do, studying and recreating them. The creation process is a meditation to me, and I get completely lost in my work.
Interviewer: What is the most popular item you produce? Why do you think this is?
Kate: Dandelions *smiles*. They are actually considered weeds, but when they're in the home, they remind you about the sun, summer, and your heart grows warmer. People want this warmth to last, so they want to have a version of this flower that lasts. Whenever you give dandelions as a gift, it symbolizes your wishes for happiness, youthfulness, faithfulness, and healing.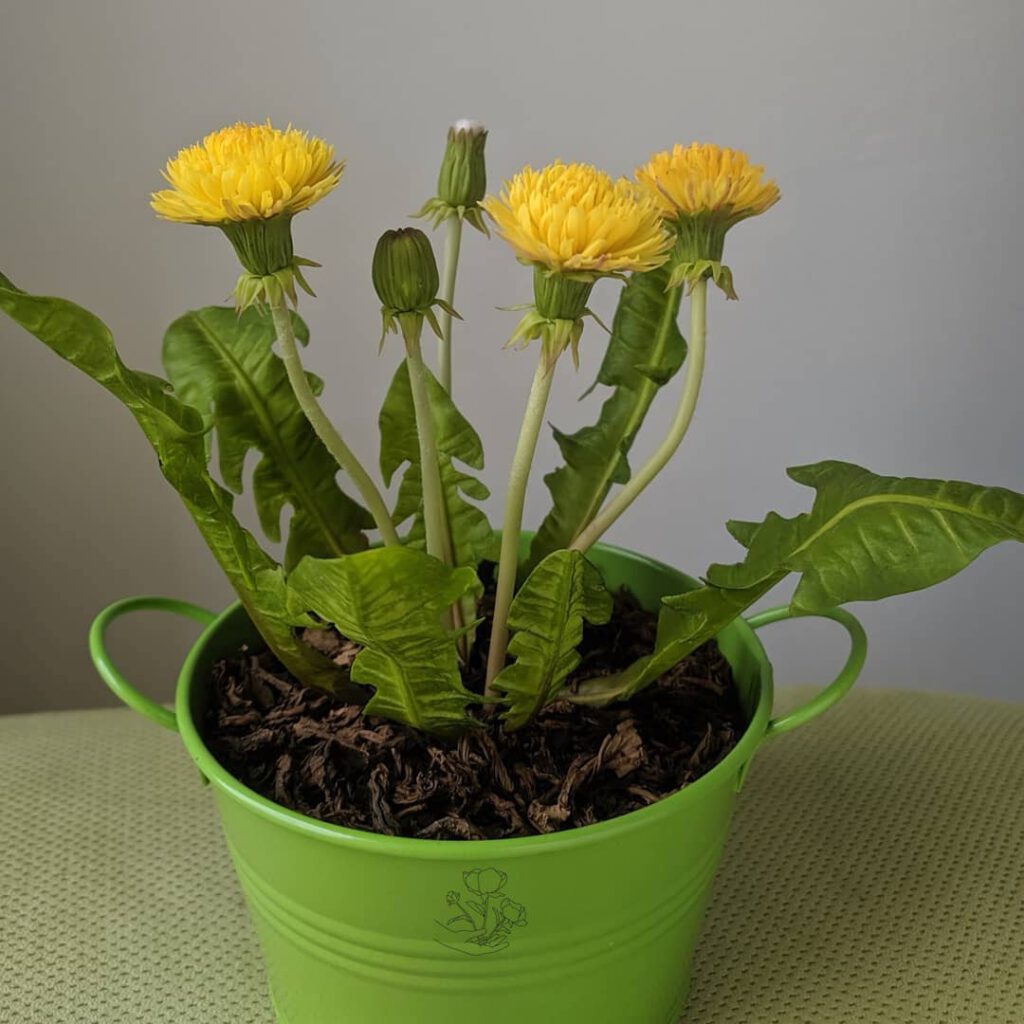 Interviewer: Do you make custom pieces for your clients?
Kate: Of course! I take great pleasure in making custom pieces for my clients. This is the real beauty of hand-made crafts. Every piece that I make, every bouquet, and arrangement that I put together are all fully customized from start to finish. I work really hard to tailor each piece or bouquet to my customers' wishes. It gives me great joy to work with every one of my customers to let the flower pieces fit perfectly into the spaces where they will go, and help them give a gift that will please their loved ones. Creating custom pieces for my clients gives me an even greater depth and meaning to all of my hard work.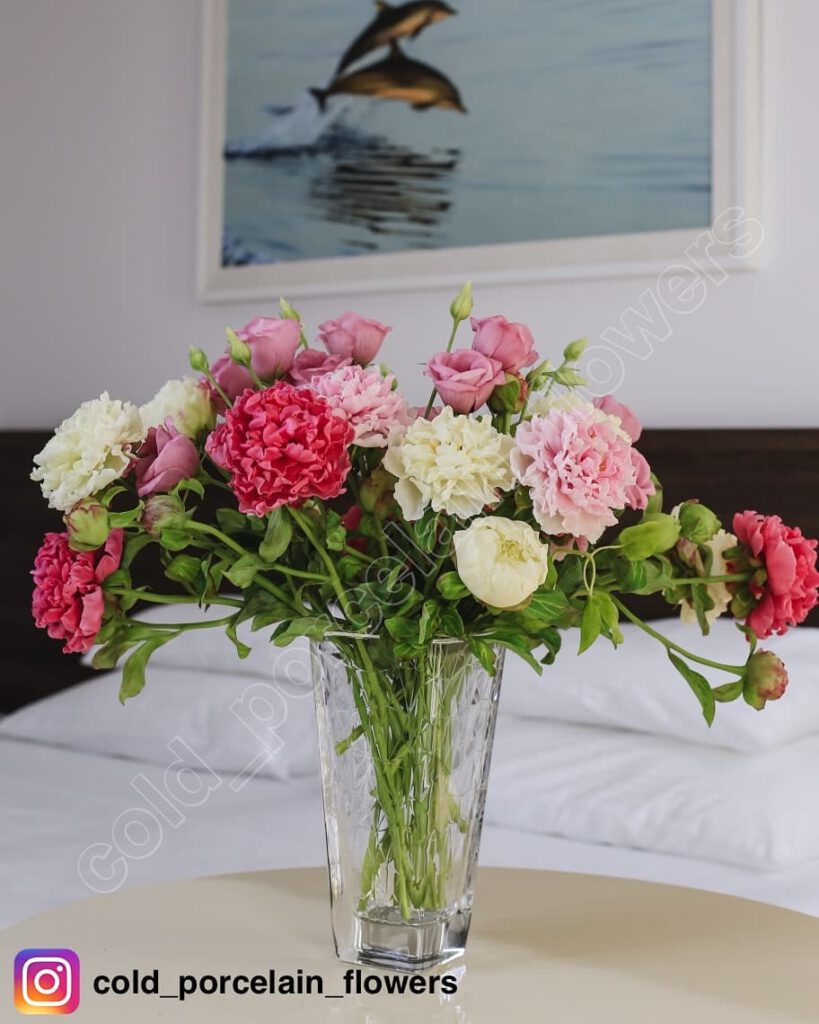 Interviewer: Do you collaborate with other artists?
Kate: I get a lot of orders coming in from decorators, jewelry artists, and interior designers. It is wonderful to see my flowers used in different spaces and alongside other types of crafts. And I also believe that it's important to collaborate with other artists who share the same values and intentions for our shared work.
Interviewer: What do you enjoy doing when not perfecting your craft?
Kate: I am a proud mother of three wonderful children. They are my primary focus in life, and definitely take up most of my time, attention, and love. When I am not spending time with my family, I study traditional homeopathy and Ayurveda. I like to bring us a balanced, healthy lifestyle.
Interviewer: Would you ever offer classes to teach others the craft of flower-making?
Kate: I like to create, but not really teaching. I find myself sharing my craft through my creations, but teaching others is not something that brings me as much enjoyment as the actual creation process. You can learn some basic techniques through YouTube, but of course, just like everything, the true magic comes through time, effort, and practice.
Interviewer: What advice would you give to fellow porcelain clay artists and/or other artists?
Kate: As I mentioned before, I really think that the only way to learn a new skill is through time and practice, but you also need to make sure that you are fully present in whatever you create or work on. Creating flowers has been a great challenge, but has also brought me so much joy. You have use real flowers or other parts of the natural world as models. Then, use high-quality materials in your representations. I know that this will make a huge difference when we see the outcomes of each piece. Most importantly, get started, and do not despair if your first try (or several tries) don't turn out exactly as you intended. With every new item that you create, and every result, you will get better and better.
Interviewer: Thank you for your time, Kate.
If you are looking for something a bit different for any sort of event – whether it be an anniversary, Mother's day, or a birthday – we highly recommend that you take a look at these unique decorative pieces. They will be the perfect gift for any kind of home decoration. Each flower has its own story and meaning, and these beautiful ceramic pieces transport them from their sheer natural, momentary beauty to a beauty that will continue through time. Additionally, all materials used in the pieces are non-toxic and the majority of contents included are biodegradable.
These are also great ideas to brighten up your rental property, villa, resort, living room, pair with any existing artistic creations, or your bedroom. They are perfect for bringing that extra ambiance and brightness to every space.
Advertising: use interactive QR code generator for your business and sales.